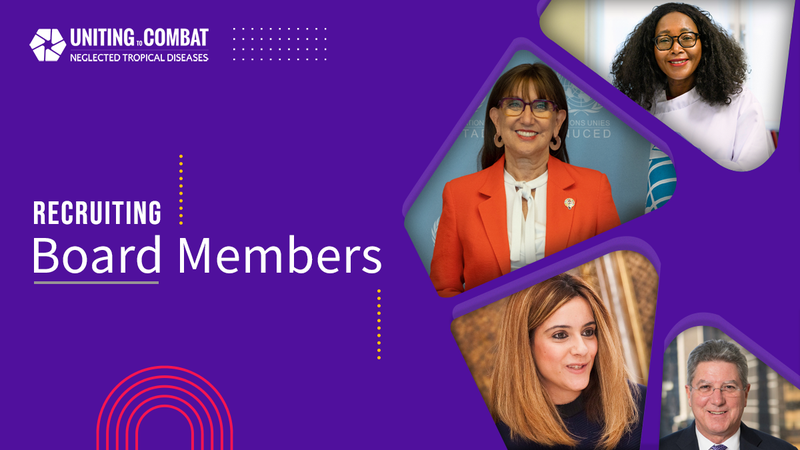 Do you want to use your skills and experience to make a difference? Are you passionate about global health issues?
Uniting to Combat NTDs is looking for passionate, experienced and influential people to join its Board and to support its mission.
What are Neglected Tropical Diseases?
Neglected tropical diseases (NTDs) is an umbrella term used to describe a group of communicable diseases that affect over 1.7 billion people.
NTDs cause immeasurable suffering. They debilitate, disfigure and can kill. By most commonly affecting some of the most vulnerable people in the world – who often live in remote communities – NTDs create cycles of poverty and cost endemic nations billions of dollars every year.
What is the Uniting to Combat NTDs partnership?
The Uniting to Combat NTDs partnership was established following the 2012 London Declaration on (NTDs), where partners committed to play their part in supporting the achievement of the goals in the 2012 (WHO) Roadmap. Endorsements and Commitments on the Kigali Declaration on NTDs were kicked off around World NTD day which support the new WHO Roadmap.
Uniting to Combat Neglected Tropical Diseases (Uniting) is a unique global health partnership that supports the work of the World Health Organization (WHO) and national governments in reaching targets to prevent, control, eliminate or eradicate NTDs.
The partnership is a coalition of the willing which includes bilateral and multilateral donors, private philanthropists, NGOs, youth networks, pharmaceutical companies, academic and research institutions and other partners. It is an open partnership, welcoming all partners and organisations who are committed to playing their part supporting countries in the fight against NTDs. Each partner has their own remit and contributes to the fight against NTDs in accordance with their capabilities and focus.
Roles and Responsibilities of Board Members
Provide "big picture" strategic leadership in setting the partnership's strategic goals.
Endorse the partnership's vision and value proposition.
Commit sufficient non-remunerated time to prepare for, attend, and participate fully in all Board meetings, discussions and decisions.
Provide strategic leadership, contributions and support in the development and refinement of the strategic and operational plans of the Secretariat.
Reach out to members of the Consultative Forum and Uniting Partner Network as necessary to ensure that diverse voices are brought into Board discussions and deliberations.
Act as an advocate for the partnership and support the Secretariat in the implementation of the partnership strategy and efforts to catalyse global and domestic resources for NTDs.
To find out more about the Uniting to Combat NTDs board please click here
Skills and experience required for the role
Have, or willingness to develop, an in-depth understanding of and personal commitment to the Partnership's vision, objectives, principles, and core values.
Have, or willingness to develop, an in-depth knowledge of the issues around NTDs, international health and/or development, and development financing and/or advocacy.
Be a recognised expert in their field with the knowledge and capability to contribute towards shaping the overall strategic direction of the Partnership.
Ability to engage members of the Advisory Group, Secretariat , Partnership and other stakeholders with a consultative approach whilst taking into account diverse opinions, perspectives and experiences.
Ensure the independence of their decisions and act in the best interest of the Partnership rather than any specific organization.
Senior leadership experience in a global commercial organisation with experience leading/influencing resource mobilisation, business development and stakeholder management.
Senior leadership experience, having the viewpoint and decision-making authority to influence and guide the high-level strategic decision making, direction and outcomes of an organisation.
Strong management skills with experience working in diverse and complex, multi stakeholder environments.
Experience serving on governing bodies of commercial and/or partnership organisations, and the ability and capacity to network effectively and broadly.
Ability to act as ambassador.
Have sufficient time available to dedicate to the role – minimum four quarterly meetings per year plus ad hoc as required.
For more information on the roles and responsibilities and criteria for a Uniting Board member, please click here
To apply
To apply please complete a nomination form accessed via the link here, or if you are nominating a colleague please click here and please send a curriculum vitae to recruitment@unitingtocombatntds.org detailing why you want to take on this role and how your skills and experience will ensure you can make a difference.
For further information please contact us at recruitment@unitingtocombatntds.org