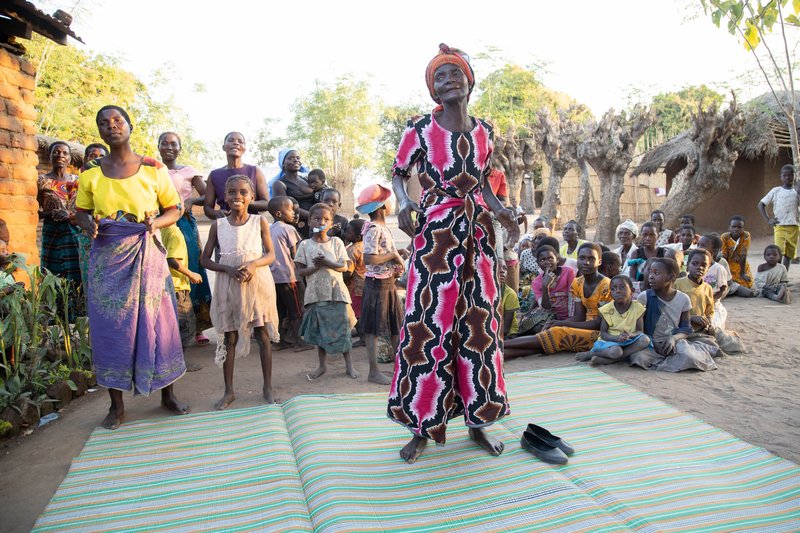 © Malumbo Simwaka / Uniting to Combat NTDs/ Sightsavers
When campaigning for the mobilisation of resources for neglected tropical diseases (NTDs), demand generation is critical. In order to unlock financing, countries have to call for action and investment in NTDs.
What is demand generation?
Demand generation, or demand creation, is the strategic combination of advocacy, communication and mobilisation approaches that seek to achieve increased awareness of NTDs, and demand for, investment and action to end NTDs.
Why is demand generation at a country level important?
As Dr Soce Fall, Director of the Global Programme for Neglected Tropical Diseases at WHO, said to a room of Ministers of Health from across the African continent at a recent event on innovative financing mechanisms for NTDs:
"We need to prioritise NTDs, not only in the health sector but across sectors because having an impact on NTDs is a great contribution to our sustainable development."
It's essential that countries continue to lead on and take ownership of ending NTDs by including NTDs in their national budgets and applying for funding from international sources if we are to carry on seeing tangible results at scale.
This level of commitment shows that countries care, that they want to prioritise NTDs, and demonstrates to other potential donors why they should invest in NTDs too.
All members of the NTD community are instrumental in supporting demand generation, and calling for countries, donors, NGOs, philanthropists, and institutions to commit to funding, including at the Reaching the Last Mile Forum in December 2023.
Below is a list of tools to help mobilise governments and institutions:
The Kigali Declaration is a high-level, political declaration that is mobilising political will, community commitment, resources and action, and securing commitments needed to end suffering caused by NTDs.

Created in consultation with stakeholders around the world, the Declaration puts individuals, communities, and countries at the centre of the NTD response. Each signatory makes a unique and vital contribution towards ending NTDs. Collectively, these translate into incredible progress being made.

With countries leading the way, international targets are embraced and translated into national strategies, leading to impact and action. The actions set out in this powerful Declaration will help us achieve the Sustainable Development Goal 3 (SDG3) target on NTDs and to deliver the targets set out in the World Health Organization's NTD road map.

By encouraging countries to endorse the Kigali Declaration, we can show the desire to act at a national level which is vital in demand generation.
The Prime Minister of the Republic of Rwanda, H.E Dr Edouard Ngirente, signs the Kigali Declaration on NTDs
The Kigali Declaration Commitment Tracker is an online system designed to capture, track and monitor commitments for NTDs. It is the only financing tracker for NTDs, making it a key tool for accountability and to drive further investments.

An interactive dashboard shows a high-level overview of commitments, disaggregated by stakeholder group and the four commitment types - financial, health product, policy, and in-kind. Partners enter their commitments directly themselves and have full ownership and management of their commitment data.

When partners publish their commitments through the tracker, the NTD community can celebrate these commitments and therefore use as a way to incentivise others to do so.

We encourage countries to enter their commitments on the tracker and prioritise NTDs as this is essential for country ownership, as well as encouraging donors to support NTDs when it's a country's priority. It also allows us all to see a more complete picture of NTD funding and importantly the funding gap, supporting calls for further financing.
Use your voice!
We are stronger in calling for action on NTDs when we use our collective voice. All members of the NTD community are instrumental in this, demonstrating the importance of tackling NTDs and approaching from whichever angle suits their work best.

From creating demand generation in endemic countries and celebrating elimination successes, to securing commitments from industry, this all helps to demonstrate the need for investment in NTDs to meet the WHO road map targets.

If we all come together to use our voices collectively and coherently, we can demonstrate demand for action to be taken on NTDs. We can show that we are 100% Committed to beating NTDs.
If you would like to suggest any other tools for demand generation which could be added to this list, we would love to hear from you. Please contact info@combatntds.org