Investing in NTD programmes is critical to achieving pandemic preparedness, prevention, and response (Pandemic PPR) efforts. Global health emergencies, like COVID-19, stem from persistent underinvestment in global health, insufficient disease surveillance, inadequate global data sharing, and weak health systems, compounded by inadequate pandemic preparedness. Investing in fighting ongoing epidemics like NTDs, as well as malaria, HIV, and TB, leads to stronger health systems and workforces that are better equipped to detect and respond to both existing epidemics and future outbreaks of new diseases. Eliminating one or more NTDs also requires the establishment of robust disease surveillance systems, which can also improve early detection of new health threats, allowing for a faster and more effective response.
Arguments: NTDs and Pandemic, Prevention, Preparedness and Response (Pandemic PPR)
Prevention
Several NTDs, including dengue and chikungunya, have pandemic potential and therefore we need to invest in controlling and eliminating these diseases now, especially whilst we have drug donation programmes. Furthermore, NTD surveillance systems (including data, diagnostics and labs) can be used for surveillance for pandemic-potential diseases. NTD surveillance systems need to be expanded to integrate surveillance for new and emerging diseases. Early detection can minimise the potential of a future pandemic outbreak. Likewise, we must ensure that financing is maintained for existing endemic health issues and not reallocated to health emergencies to avoid eroding gains made over decades.
Preparedness
NTD programmes build both the capacity and capability of health workers in rural communities. They also build trust with the local health workers who are sometimes the only health services that rural isolated communities see and engage with. In addition, many NTDs are scheduled for elimination. Eliminating NTDs will release resources to other health areas and can reduce strain on overburdened health systems, especially in times of crisis. States need to generate local epidemiological data including on co-infections and co-morbidities to avoid exacerbating the impact of any disease that may arise from a future pandemic or health emergency.
Response
The experience gained and reach of existing NTD control and elimination programmes already embedded in rural communities, can be utilized to support national responses to future pandemics, as it was for COVID-19.
Asks: NTDs and Pandemic PPR
Ensure that new investments in Pandemic PPR prioritise investments in NTDs and that financing for existing endemic health issues is maintained and not reallocated to health emergencies. New financing should include investments in research, innovation and access, for vaccines, new drugs and diagnostics for NTDs.
Recognise the importance of expanding existing NTD surveillance systems for new and emerging diseases.
Recognise the benefits of the capacity, capability and trust built up in rural communities by NTD programmes for future pandemic preparedness, prevention, and response.
Advocate for investments in Primary Health Care (PHC) to ensure that community-based health systems are efficient and effective. PHC is the backbone of health systems and should be structured to support the delivery of essential packages of care that prioritise underserved communities. NTD interventions must form part of PHC and included in essential packages of care.
Action: Ask Member States to include NTDs in the Political Declaration of the High-Level Meeting on Pandemic Preparedness and Response
There will be a High-Level Meeting on Pandemic PPR at this year's United Nations General Assembly. The Political Declaration of the High-Level Meeting on Pandemic Preparedness and Response (PPR) provides a welcome opportunity to highlight how experience gained in the field of NTDs can be utilised to mitigate the impact of future pandemics and for future pandemic prevention, preparedness, and response efforts.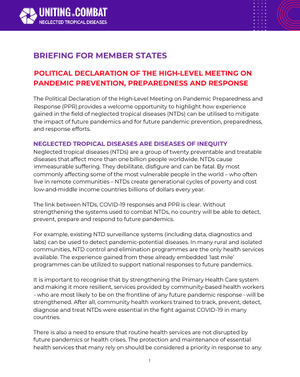 21 June 2023
Download the full briefing note