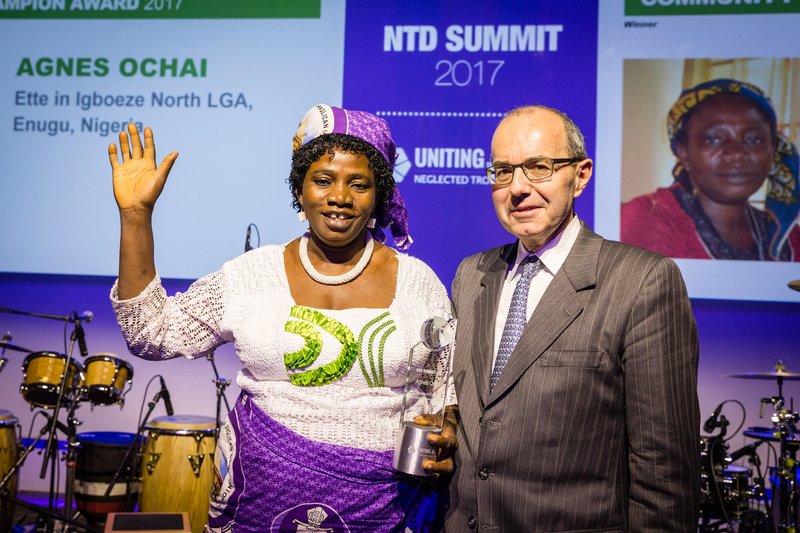 The inaugural Women in Focus Awards took place at NTD Summit 2017 to celebrate the crucial role women play in the on-going fight against neglected tropical diseases, a role which often goes unrecognized and unrewarded.
The awards were organised by Uniting to Combat NTDs and the Neglected Tropical Disease NGDO Network. Thank you to the 165 people who nominated 100 inspirational women for these prestigious awards.
From Bolivia and Bangladesh to Ethiopia and Yemen, women from 11 countries across the globe will be recognized on 19 April for their tireless and vital role played on the frontline, tackling NTDs in their communities.
As 2017 marks the 5th anniversary of the London Declaration and the World Health Organization's roadmap on NTDs, the awards celebrate this milestone by shining a light on these inspirational women helping to control, eliminate and eradicate 10 neglected tropical diseases.
Learn about the winners and finalists
Inspirational award
Winner: Aciro Grace Oyat (54 years old – Abera Village, Uganda)
For women who have been affected by NTDs themselves and have made significant contributions in supporting others.
Community Champion award
Winner: Agnes Ochai (Enugu, Nigeria)
For women working at the community level, such as community directed distributors, teachers, environment assistants and community health workers who have made a remarkable impact in their work linked to NTDs.
Exceptional Service award
Winner: Dhekra Annuzaili (49 years old – Sanaa, Yemen)
For women working for NGOs or community-based organisations who have made a significant contribution towards NTD control and elimination.
Leadership award
Winner: Edridah (51 years old – Uganda)
For women working at the health center, sub-national or national level who have given exceptional service towards NTD control and elimination.