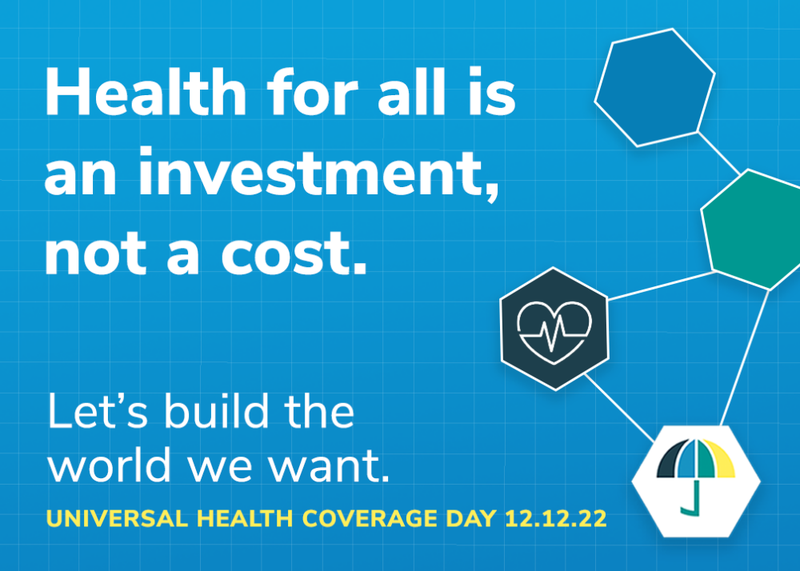 On Universal Health Coverage (UHC) Day, we join UHC advocates to call on leaders to make smarter investments in health.
Imagine an ideal world, what would it look like? We share a vision with our universal health coverage peers. In the world we want, all people can access quality health services without financial hardship. In the world we want, individuals, communities, and countries are not set back by disease; women are not disadvantaged, adults can go to work, and children can go to school. In the world we want, no-one suffers from preventable and treatable diseases.
That is why we are joining millions of people on Universal Health Coverage Day to call on leaders to make smarter investments in health.
One such investment is funding neglected tropical disease programmes. 
Why is this a smart investment?
Progress is possible – investing in NTDs 'works'
Over the past decade, incredible progress has been made against neglected tropical diseases (NTDs) – a group of 20 diseases that debilitate, disfigure and can kill. Forty-six countries have eliminated at least one NTD, with several countries having eliminated two, three or four NTDs. In 2020, 600 million fewer people required interventions against NTDs than in 2010. NTDs are treatable and preventable, so it is within our power to end them.

A reduction in the number of people requiring an intervention against an NTD can be a tracer for equity
NTDs affect over a billion of the poorest people on our planet – individuals that are hard to reach and most at risk of being left behind. There can be no better way of measuring equitable access to health, than tackling NTDs. Ending NTDs as a public health health threat, everywhere, and for everyone, will be a true measure of UHC.
NTD programmes, through their sheer scale, have the potential to lay the foundations for universal health coverage
NTD  programmes strengthen health systems by increasing access to hard-to-reach people and training community health workers, who provide a first line of primary healthcare. Both are vital for achieving universal health coverage.

The benefits of investment are clear
Investing in NTD programmes creates a ripple effect in society. It leads to better education, health, and employment outcomes, and transforms lives and communities. It also helps to reduce gender inequity, stigma, and preventable mortality and morbidity. Ending NTDs will make our health systems more resilient and our world a more equitable and safer place. What's more, funding NTDs is a 'best buy' in global health, both in terms of impact (as described above) and in leveraged funding (the United States Agency for International Development estimates that for every US$1 spent on NTD programmes, US$26 in medicines are donated through partnerships with pharmaceutical companies).
Efforts to tackle NTDs are a global health success story. Investment in NTDs is crucial if we are to pave the way to UHC and leave no-one behind. However, the impact of the COVID-19 pandemic has threatened progress. According to the third WHO global pulse survey, NTD services were among health services most frequently affected by the pandemic. There has been a 34% decline globally in NTD mass drug administration in 2020 compared to 2019. Although coverage has increased by 8% in 2021, levels are still much lower than before the pandemic, and comparable to those of ten years ago.This constitutes a serious threat to the global community's ability to meet the targets laid out in the WHO NTD road map and the Sustainable Development Goals (SDGs), of a 90% reduction in the number of people requiring an intervention against NTDs by 2030. It also poses a threat to meeting SDG target 3.8 – achieving universal health coverage – as not all people and communities are receiving the health services they need. Over one billion people are currently affected by NTDs. 
Sustainable financing for NTDs is needed if we are to recover from COVID-19 disruptions, reach the SDG targets on NTDs and UHC, and safeguard the hard-won elimination gains of the past decades. 
That is why, building on UHC Day, we are focusing the theme for World NTD Day 2023 on sustainable investment.  Together, with partners, we are calling on world leaders to:
Act Now. Act Together. Invest in Neglected Tropical Diseases
No one should suffer from preventable, treatable diseases when the medicines to help them are available. We have a huge opportunity to change the lives of those affected by NTDs, and pave a way to UHC for all. 
To find out more about World NTD Day (30th January 2023) and join the movement, click here.
We are 100% committed to achieving universal health coverage.
We are 100% committed to ending neglected tropical diseases.