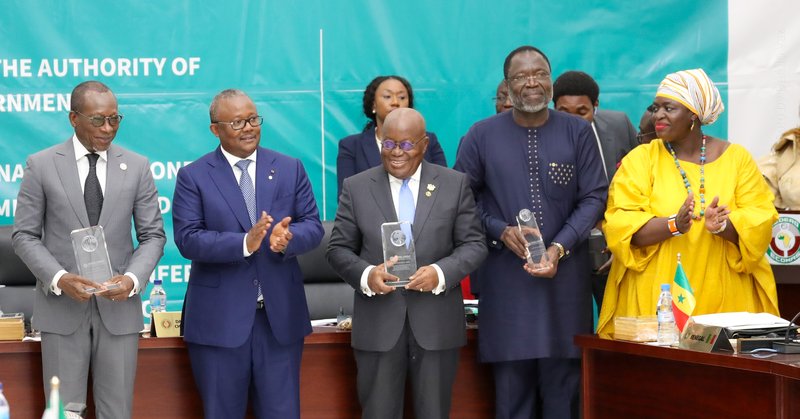 Pictured from left to right:
His Excellency, Patrice Talon, President of the Republic of Benin
His Excellency, Umaro Sissoco Embaló, President of Guinea Bissau and Chair of the Authority of ECOWAS Heads of State and Government
His Excellency, Nana Akufo-Addo, President of the Republic of Ghana
His Excellency, Omar Alieu Touray President of the ECOWAS Commission
Thoko Elphick-Pooley, Executive Director, Uniting to Combat Neglected Tropical Diseases
Bissau, 9 July 2023 - The Economic Community of West African States (ECOWAS) has been recognised for gains made by the West Africa region in tackling neglected tropical diseases (NTDs) that affect more than 600 million people in Africa, nearly half of whom are in ECOWAS.
ECOWAS was presented with a Leadership Award by Uniting to Combat Neglected Tropical Diseases during the bloc's Heads of State Meeting. The award honoured 10 of ECOWAS's member states who are among 21 African countries that have successfully eliminated at least one NTD. Also recognised were Ghana and Benin; both countries received a Major Achievement Award for eliminating three NTDs each.
NTDs are a group of 20 preventable and treatable diseases that are endemic in 49 African countries, and which affect over a billion people globally. They cause suffering, disability, disfigurement, and are fatal in many cases. They also inflict significant economic damage on individuals and countries in terms of lost productivity and treatment costs. The African continent accounts for more than a third of the global NTD burden.
Speaking during the awards ceremony, Guinea Bissau's President, Umaro Sissoco Embaló, who is also Chairman of ECOWAS, commended the region for its relentless pursuit of an NTD-free West Africa.
"Across West Africa, we have witnessed the transformative impact of our combined efforts. Through sustained commitment and innovative strategies, we have made substantial strides in reducing the prevalence of NTDs, alleviating human suffering, and promoting a brighter future for our people."
Umaro Sissoco Embaló, President of Guinea Bissau
"Our vision for Africa is for healthy and well-nourished citizens, free from preventable diseases, including NTDs. The exceptional achievement by ECOWAS showcases the relentless efforts to accelerate the elimination of NTDs on the Continent. As we celebrate these accomplishments, we must redouble our efforts to promote domestic resource mobilisation, enhance integration and further advance the fight."
Moussa Faki, Chair of the African Union Commission
Recognition of the achievements of ECOWAS, Ghana, and Benin, follows that accorded to Togo in 2022, when it became the first country globally to eliminate four NTDs and the first African country to be validated as having eliminated sleeping sickness.
"The progress we have made in eliminating these debilitating diseases is a testament to the dedication and collaboration of our member states and serves as an inspiration to double down on our efforts."
Dr. Omar Alieu Touray, President of the ECOWAS Commission
"The collective determination and coordinated actions of ECOWAS member states is reflected in a recent health ministers' resolution in Abuja in accelerating the elimination of NTDs and could serve as a model for other regions. The commendable leadership and multisector efforts have contributed to the progress achieved in the region."
Dr Melchior Athanase J.C. Aïssi, The Director-General of the West African Health Organisation (WAHO)
Recently, Benin and Mali were validated by the World Health Organization for successfully eliminating trachoma, a highly contagious bacterial infection that is the primary cause of infectious blindness globally.
Ghana holds the distinction of being the first country in sub-Saharan Africa to eliminate trachoma and joins Benin and Togo in having successfully eliminated at least three NTDs each.
"I am immensely proud of the remarkable progress we have made in combating NTDs in our region. We have shown that together, and with resilience, no challenge is insurmountable. Let us continue to push boundaries, strengthen partnerships, and leave no one behind in our pursuit of an NTD-free West Africa. The Kigali Declaration on NTDs, which Ghana is proud to have endorsed, provides the political framework for countries and partners to come together to deliver our global goals."
Nana Akufo-Addo, President of the Republic of Ghana
"The African region has achieved some progress in the elimination of NTDs with twenty countries having eliminated at least one NTD. However, we know that more still needs to be done to improve living conditions and increase access to prevention and treatment of NTDs for our people. With the right investment, we will achieve elimination of all NTDs in our region and the ECOWAS region is showing that this is possible."
The Representative of the WHO Regional Director for the African Region
"The collaborative efforts of ECOWAS member states have truly set a remarkable example in the fight against NTDs. By prioritizing resilience, innovation, and sustained commitment, we are charting a path towards a healthier and more prosperous Africa."
Dr Socé Fall, Director of WHO's Global NTD Programme
The recognition of ECOWAS's achievement follows efforts at the continental level to eliminate NTDs. Development of the Continental Framework and Common Africa Position on NTDs, which acts as a strategic guide in the fight against NTDs, has led to calls for increased national funding in order to eliminate these diseases by 2030.
"Industry partners have an important role to play in supporting national and international access-to-medicines programs for NTDs. As part of our long-term commitment to the WHO 2030 NTD road map, we are proud to see our donations of reliable, safe and effective medicines and diagnostics contributing to the control and potential eradication of NTDs in West Africa."
Paul Hudson, CEO of Sanofi, reaffirming industry's commitment to aiding country elimination efforts and congratulating ECOWAS for their leadership and scale of impact.
"Eliminating just one neglected tropical disease is a massive achievement, ending the scourge of three takes outstanding commitment and collaboration. Congratulations to Benin and Ghana, their governments, health workers, volunteers and the organisations who made this happen, of which Sightsavers is proud to be a part. The benefits will ripple through society, breaking a vicious cycle of pain and stigma, and enabling more people to earn and more children to learn."
Caroline Harper, CEO of Sightsavers
"The Carter Center recognizes the remarkable milestones of all the ECOWAS countries that have achieved the elimination of one or more neglected tropical diseases. Under the leadership of former U.S. President Jimmy Carter and in collaboration with the host governments, we are proud to have been a partner with you in your elimination victories for Guinea Worm and Trachoma. The power of collaboration, compassion, and collective action has triumphed, transforming countless lives and illuminating a path of promise towards a future where neglected tropical diseases will no longer harm the livelihoods of some of the world's most vulnerable people."
Paige Alexander, CEO of The Carter Center
"People suffering from neglected tropical diseases face a vicious cycle of pain, stigma, and lost potential. By eliminating these diseases, we are ensuring a healthier future for millions of children and families across Africa. Helen Keller Intl is proud of the incredible progress we've made, having supported the elimination of trachoma as a public health problem in Mali, and we look forward to celebrating additional milestones in the near future. This is a historic time in public health, and it's made possible by the tireless commitment of communities, governments and a diverse group of partners."
Dr. Angela Weaver, Vice President of Neglected Tropical Diseases for Helen Keller Intl
This story was covered in: