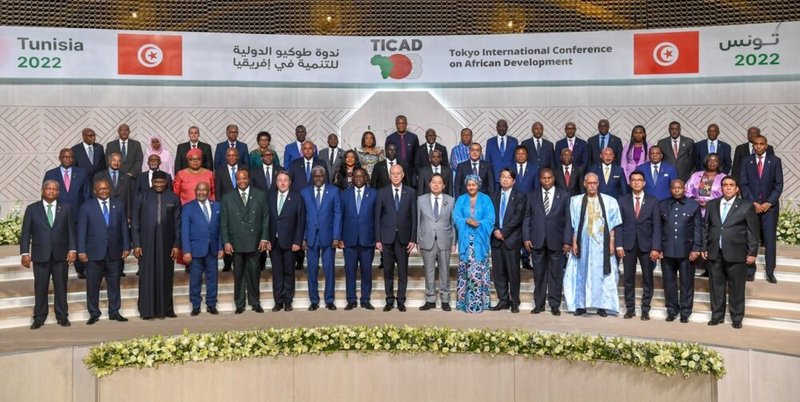 NTDs recognised in official TICAD8 Leaders Declaration
Leaders meeting at the Eighth Tokyo International Conference on African Development (TICAD8) in Tunis, the Republic of Tunisia on 27-28 August, have officially recognised neglected tropical diseases (NTDs) as deserving special attention in the Declaration under the second pillar of action "Realising a resilient and sustainable society". 
The TICAD summit is a high-level international conference focused on mobilising and sustaining international support for Africa's development. TICAD8 is co-hosted by the Government of Japan, the United Nations, United Nations Development Programme (UNDP), the World Bank and the African Union Commission (AUC). 
The Declaration, which specifically highlights NTDs, was adopted at the Summit, and outlines the agreement made by Heads of State and Government of African Union Member States and the delegations of Japan, together with representatives of TICAD co-organizers, to intensify efforts in critical sectors such as health and to accelerate progress on neglected tropical diseases. "We fully commit to achieving universal health coverage (UHC) in African countries, through advocating for private sector investment as a way of promoting domestic financing for health, while addressing long-standing challenges such as communicable and non-communicable diseases, with special attention to neglected tropical diseases…as well as access to safe and drinking water, sanitation and nutrition." This commitment builds on the Yokohama Declaration and Action Plan from TICAD7.
These commitments are vital for the delivery of the Continental Framework on NTDs, led by the African Union, in support of the World Health Organization (WHO) NTD Roadmap 2021-2030, and the Sustainable Development Goal (SDG) target on NTDs.
In June, at the Kigali Summit on Malaria and NTDs, the WHO also endorsed and signed the landmark Kigali Declaration on NTDs – a high-level political declaration which mobilises political leadership and secures commitments to end NTDs. The Kigali Declaration, launched by H.E. Paul Kagame, President of Rwanda, has already secured the largest ever financial commitment for NTDs to date. The Declaration prioritises putting country ownership of NTD programmes, integration and cross-sectoral collaboration front and centre, to ensure these programmes are sustainable in the long term.
Placed in a post-Covid-19 context, the discussions during the TICAD 8 conference revolved around three themes: achieving sustainable and inclusive growth with reduced economic inequalities, realising a sustainable and resilient society based on human security, and building sustainable peace and stability through supporting Africa's own efforts.
Thoko Elphick-Pooley, Executive Director of Uniting to Combat Neglected Tropical Diseases, attended the TICAD8 conference and said, "Investing in the fight to end neglected tropical diseases will help alleviate poverty and build stronger and resilient economies, in line with Agenda 2063. We celebrate the commitments made by the Heads of State and Government, of African Union Member States and the delegations of Japan together with representatives of TICAD co-organizers to accelerate progress against NTDs. Incredible progress has been made, but if we are to reach the SDGs and the WHO roadmap goals, countries must invest their own domestic resources towards ending NTDs."