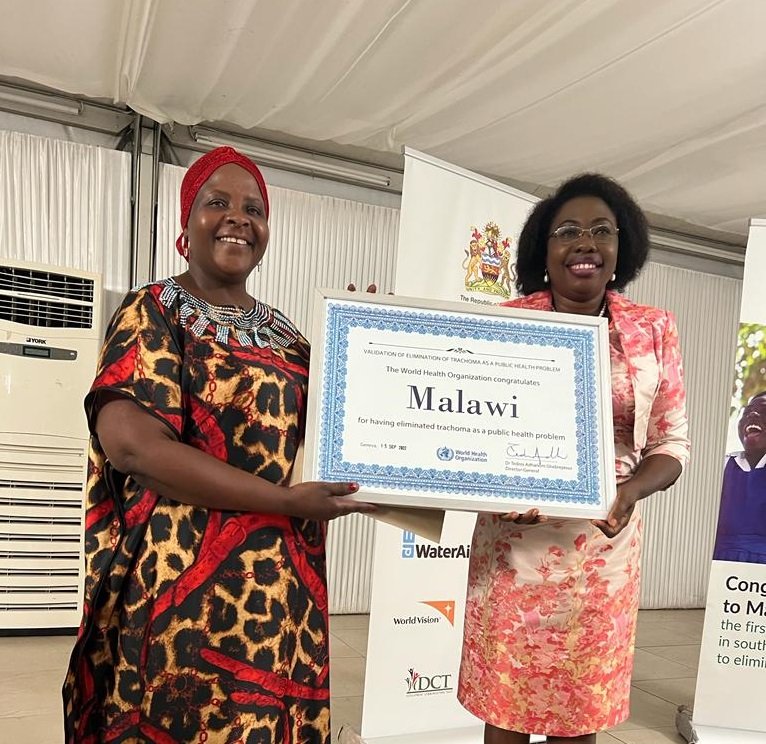 "Our message is a message of hope, that it is doable"
In September 2022, Malawi became the first country in southern Africa to eliminate trachoma, the leading infectious cause of blindness. Two years earlier, in 2020, Malawi also eliminated lymphatic filariasis, a parasitic disease transmitted by mosquitoes that leads to disfiguring, swelling and disability. We spoke to the Honourable Khumbize Kandodo Chiponda MP, Minister of Health in Malawi about these achievements and what can be learnt from Malawi's success.
Can you tell us about trachoma and lymphatic filariasis – how prevalent were they in Malawi?
Trachoma is a bacterial infection of the eyes that causes severe swelling and scarring of the eyelids and is the world's leading cause of infectious blindness. As recently as 2015, 7.6 million people in Malawi were at risk from this disease. But with an intensive effort that included providing preventive treatments to people across our country, in September Malawi became the first nation in southern Africa to remove this threat from our lands. Two years earlier, in 2020, we also eliminated lymphatic filariasis, a parasitic disease transmitted by mosquitoes that leads to disfiguring swelling and disability.
Both trachoma and lymphatic filariasis are neglected tropical diseases (NTDs), a group of 20 communicable diseases that cause immeasurable suffering and affect more than 1.7 billion people worldwide.
How do diseases like trachoma and lymphatic filariasis affect individuals and communities?
If trachoma is not attended to it can cause blindness. It is a serious disease which really affected our people in Malawi. Lymphatic filariasis is also a serious disease where limbs become swollen and it is difficult to walk. It brings a lot of stigma. Imagine how these diseases affect communities – if you cannot see or cannot walk, how can you work? How can you provide for your family? Imagine the difficulties of going to school or looking after your children.
Can you tell us about the progress that Malawi has made to tackle trachoma and lymphatic filariasis? What are you most proud of?
Malawi is committed to ending the burden of NTDs in our country and improving the quality of life of our citizens. And I am so proud of what we have accomplished so far. We have focused on delivering high-impact, cost-effective tools and strategies, preventing disease transmission, and strengthening our health systems to be able to reach those living in the most remote parts of our country.
Key to our success has been strong engagement from all sectors – in particular, our district health offices, the most rural outposts of our national healthcare system. These small facilities, often just several hundred square meters in size, can serve hundreds of thousands of people in the rural parts of our country.
For both our trachoma and lymphatic filariasis elimination efforts, these facilities became vital distribution hubs for the preventive medicines that powered our work. We made sure that each district health office was supported by a full cadre of our incredible community health workers, who extend the reach of our healthcare system to places in need. These trained professionals go door to door, providing even the most remote of households with preventive treatments as well as information on clean water and hygiene to help keep trachoma out of their homes.
As a country, we have come from far. We have made many gains and we are very proud that we managed to eliminate trachoma and lymphatic filariasis.
What single message would you give to other leaders trying to eliminate neglected tropical diseases?
Our message is a message of hope, that it is doable. If Malawi has managed to do it, it means our neighbours can do it. And indeed, we are seeing many countries have achieved elimination. 46 countries have now eliminated one or more neglected tropical disease, showing that progress is possible towards the 100 country target set out in the World Health Organization's NTD 2030 road map.
It is possible to get to a stage where neglected tropical diseases are not a problem, but it requires resources and investment. Globally, we don't pay as much attention to neglected tropical diseases as we do with other conditions, such as HIV-AIDs, TB and of course, malaria. These are indeed big threats, but a disease is a disease. Trachoma and lymphatic filariasis cause immense suffering. Neglected tropical diseases should not be neglected. We need to pay more attention and invest in them like we invest in other health conditions.
Malawi is 100% committed to ending neglected tropical diseases!