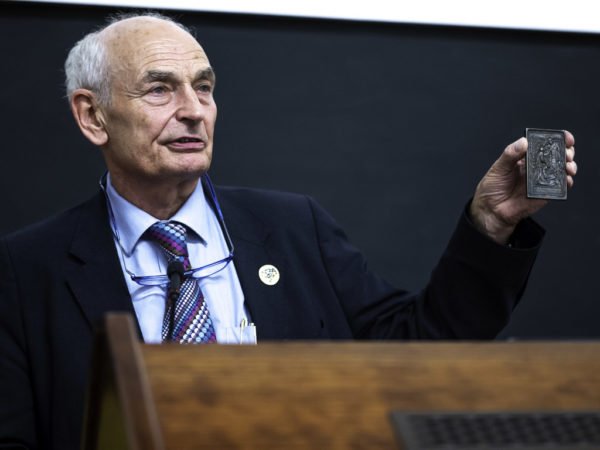 Tributes flowed in an oak-panelled Victorian lecture room in Liverpool, England, in early September to one of the pioneer fighters against tropical diseases.
Colleagues, family and friends of Professor David Molyneux gathered in the historic room to celebrate his career and mark his retirement as Emeritus Professor (amongst other roles) of the Liverpool School of Tropical Medicine.
In the early 2000s, Professor Molyneux was a key figure in kick-starting the broad coalition of scientists, aid agencies, pharmaceutical companies and others who now seek to help over one and half billion of the poorest people in the world suffering from debilitating infectious diseases. He was one of the founders of the very concept of 'neglected tropical diseases' and helped shape the battle now being waged against them.
"Millions of people across the tropics have benefitted directly from David's leadership" said his friend and colleague of over fifty years, Vaughn Southgate, at the Liverpool meeting.
"David has contributed more than 350 peer-reviewed publications and 25 chapters in learned books," Southgate added, stressing however that Professor Molyneux had also been a hands-on 'field man' as well. David has worked in remote locations all over the world on practical solutions to diseases such as river blindness (onchocerciasis), guinea worm (dracunculiasis) and elephantiasis (lymphatic filariasis), to name but a few.
Molyneux's line manager at the Liverpool School, Mark Taylor, commented that he could never really manage "a one man multidisciplinary consortium".
With his wife Anita and their children by his side, Professor Molyneux received the plaudits at the Liverpool event with grace. But he also emphasised the huge amount of work still to be done.
His colleagues joked that they were not ready to see him retire. They still had jobs for him to do, they said, and his encyclopaedic knowledge of tropical diseases was almost irreplaceable.
"We don't use Google for answers to complex questions", another long-time fellow scientist remarked. "It's quicker just to call David".
David's wife Anita joked back that they should all give him some time to rest now.
But David will still be around despite his 'retirement'. He has just been appointed Editor-In-Chief of the specialist journal International Health.
"I see myself these days as a useful resource", Professor Molyneux said. "Call me if you think I can help."