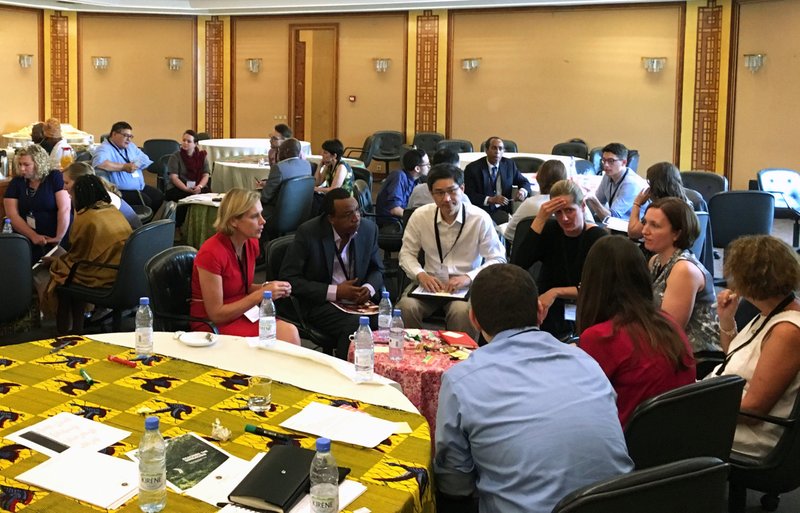 The neglected tropical diseases (NTD) community has collaborated to create two new tools to show the progress made in the fight against NTDs and to accelerate further progress through collective action.
The first of the tools – our Impact Dashboards – present a snapshot of key NTD performance indicators in an interactive online format. The second tool – the Action Framework – encourages discussions on the issues behind the numbers. The Action Framework highlights opportunities across diseases to share what is working well and to encourage partners to join forces to address common challenges. These two tools represent the work of over a hundred individuals from dozens of NTD stakeholder organizations over the past two years.
The Action Framework and Impact Dashboards replace the London Declaration Scorecard that we – the Uniting to Combat NTDs partnership – has produced each year since 2013.
The 2012 London Declaration followed the launch of the World Health Organization's (WHO) NTD Roadmap, and brought together an unprecedented group of pharmaceutical companies, donors, endemic countries and non-government organisations who committed to work together to help control, eliminate or eradicate ten diseases by 2020, and improve the lives of over a billion people. We created the scorecard to assess how well we – as an NTD community – were keeping to those commitments, as well as to identify gaps and to call for action to address them.
In the original scorecard, many partners from across the ten diseases contributed quantitative and qualitative data for review by a group of experts and leaders from key partner organizations, who met annually to assess progress in close collaboration with WHO. The group discussed program challenges and used a red, yellow and green rubric to score each disease program's overall progress, as well as progress against four criteria.
In 2017, after the fifth anniversary of our partnership, the NTD community decided to evaluate this approach. Through a consultative process of interviews, workshops, an online survey, and discussions with WHO, the community identified ways to improve the existing approach and pinpointed two distinct purposes for the scorecard going forward.
Firstly, it should support resource mobilization by displaying objective data on impact and gaps.
Secondly, it should facilitate a broad dialogue about gaps, bottlenecks, and collective action to address them. The consensus was that two distinct tools would meet these objectives better than a single one, and so we then facilitated further collaboration to develop them.
We convened discussions on what metrics and visuals would support resource mobilization. The community went through several design iterations, finally landing on the current Impact Dashboard design. This provides a simple global overview of coverage and impact across the ten NTDs of the London Declaration, using a few key standardized indicators. It divides the ten diseases into two groups: five which employ community-wide preventive chemotherapy (PC diseases) as a primary strategy, and five which focus on the care of the individual through intensified disease management (IDM diseases). Using an interactive online platform, they display quantitative data sourced from WHO and the pharmaceutical companies who donate medicines for NTD elimination. The purpose of the Impact Dashboards is to sustain and expand support for NTDs by displaying the impact of efforts to date, as well as the critical gaps and priorities that need urgent attention.
It is important to note that there are data gaps on the dashboard. Understanding where people in need of care are located is a key challenge. These people live in remote communities far from the reach of primary care services, or where local services do not have the capacity to diagnose, treat or prevent infection. Millions of people who need care, therefore, remain unknown to the health system. Obtaining the data is a complex and costly process but is a critical step towards providing people and communities with access to the services they need.
To address the second objective, that of a community-wide dialogue on challenges, gaps and priorities, we compiled input from the scorecard review and collaborated closely with NTD partners, with insights from other global health arenas, to pull this together into a new tool. This resulted in a comprehensive new NTD Action Framework for organizing qualitative information on disease programs. It covers many topics, from resource mobilization, to supply chain, to epidemiological data. The use of common categories facilitates cross-disease dialogue and identifies common challenges and opportunities. The WHO NTD department hosted a two-day meeting in October 2018 to discuss the findings and several themes for joint action in 2019 were identified. Feedback was collected so that the tool can continue to evolve.
The top priorities identified through the Action Framework process are displayed in the Impact Dashboard, linking the progress and the priorities together, showing us the big picture of where we are and what is needed now to end suffering from NTDs. You can view the 2018 Action Framework Report here.
We'd love to hear your feedback! Please send your thoughts or question on the Action Framework and Impact Dashboards to info@combatntds.org.
2018 Action Framework Report
Download